Making money online is something I've been doing for years! It's a great way to give yourself some extra income, or 'Beermoney', without the pressures of an additional job. 
Even if you only earn a meagre £10 a week, this still adds up to £560 a year. That's an entire trip abroad, every year, just by doing some small tasks online in your free time!
There's a thousand different ways to make money online, but today I'm going to be focusing on just 6 different ways. These meet criteria of being:
Easy to do
Available in the UK
Worth your time
Legitimate
That last point is important. I've personally tested out all of the methods here, so you can be assured that they work. I'll also share how much I've made from the methods, so you can get an idea of what they pay.
Before I get started I just need to mention that some of the links here will be referral links, which means I may get a sort of bonus if you sign up from it. On a lot of the sites, you'll actually need to sign up through the referral link to get your bonus. 
This doesn't change what I said above. I've used all of these services, and I trust them. The beauty of referral links is that once you sign up, you can then refer your friends and family and increase the amount of money you make aswell! 
Matched betting is the holy grail of making money online. It involves taking advantage of promotions that online bookmakers and casinos put on, to turn the odds in your favour and make easy money. I'll give a brief overview of it below!
Basically, there's 2 parts to it: Sports, and Casino.
Sports
How it works
In sports, we have traditional matched betting. I'll use an example here to explain this.
Say Bet365 (a bookmaker) put out an offer saying "Bet £30 on Liverpool vs Man United, get a £20 free bet for Chelsea vs Arsenal".
We would first place our bet on Bet365, say £20 on Man United to win. Now, we 'lay' the bet, e.g, take the gambling out of gambling. We go to an exchange, such as Betfair, and bet on Man United to not win. We'd use a calculator to work out the exact stake to use. 
The result of this is that regardless of what happens in the Man United match, we would get our money back. Well, most of it. There would be a 'qualifying loss' of maybe around £1. But when the game settles, we also get that £20 free bet.
With the £20 free bet we do exactly the same thing. The qualifying loss with the free bet will be higher, maybe around £4. But we get to retain the other £16 of the free bet.
So in the end we've lost £1, and retained £16 from the free bet. A £15 profit!
Stuff to know
You may be thinking 'that is too good to be true', and I agree. I've been doing this for around 3 years and I still think the same. But… it is true, I assure you.
The above is a 'bet and get' offer, and they're the easiest type to do. They're normally offered to new members of a bookmaker as 'sign up offers'. By just signing up to each bookmaker and doing the bet and get sign up offers, you can make £1000 quite easily. 
Afterwards, you've got 'reload offers'. These don't pay as well, but there is a constant stream of them, so you'll make much more money from these in the long run. 
As I explained above, you're mathematically guaranteeing a profit. It is not gambling, there is no risk. The only way you'll lose money is if you make a mistake and enter a wrong figure, but this is easily avoidable if you're careful. 
Also if you were wondering, yes it is completely legal.
Casino
How it works
Casino is where most of my matched betting income comes from nowadays.
Here, a typical offer will be "Wager £10 get 10 free 20p spins". It's pretty straightforward, we do just that. If a slot has a RTP (return to player) of 95%, then that means for every £10 we put in, we should expect to get £9.50 back. 
So from wagering our £10, we will expect to lose £0.50. However, we then we get 10 x 20p spins (£2) to use. From this, we will again expect to keep 95% of it, which is £1.90. 
So in the end, the expected value of this offer is £1.40 of profit (-£0.50 + £1.90).
Stuff to know
Now while sport offers are guaranteed profit, it is important to note that casino offers are not. The expected value is expected. You're unlikely to get exactly £1.40. You could lose £8, or finish with £70 of profit. It really varies all the time. 
But, if you do enough offers with a positive EV, then you will make profit long term. I keep track of all the offers I do to see how I'm doing. Here is my entire result for 2018: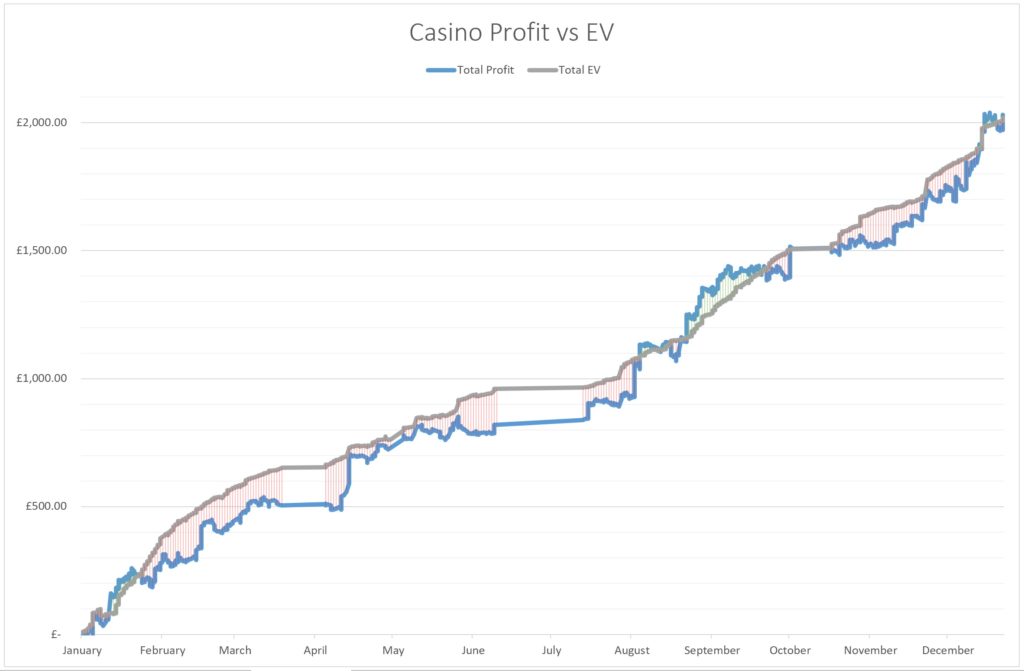 Last year was particualary good for me! In total I completed 992 offers. I made a profit in 425 of these, lost money in 535, and broke even in the rest. But overall you'll see that I made around £2,000 of profit, which was pretty close to the Expected Value. 
There were great winning streaks, and stressful losing streaks, but the profit was always going up throughout the year!
Even if you're not comfortable with doing casino offers, many websites offer free spins or bonuses where you don't even need to wager to get them! They're literally just handing out free money every day.
How Much It Pays
How much you get from matched betting depends on how much time, money, and effort you are willing to dedicate to it. A lot of people make over £1000 a month!
Personally, since I started doing it in 2016, I've made an average of £250 a month. That is from doing it for about 1 hour each night. I still can't believe I can make that much from just placing some bets and playing some slots!
OddsMonkey
So you're probably wondering how to get started, and OddsMonkey is the answer.
I've been using their website for a little over 2 years now, and it is fantastic. They're sort of like a matched betting hub. They have tutorials on how to do every type of offer, guides for all the sign up offers, and constant stream of reload offers. Plus, they've got various tools to make placing your bets as easy and profitable as possible.
There's also a great community forum, and of course a solid support team who will help you with any questions and walk you through anything you're unsure about.
They honestly make it so easy. I don't even have to look for offers, I just check OddsMonkey each day and they have them listed out, with guides on how to do each one! Here is an example of what the daily calendar page looks like:
That shows a mix of casino and sport offers. It lets you know how difficult they are to do, and whether they are guaranteed profit or expected profit. Each offer even has a link to a guide which explains exactly how to do it!
It's a paid membership, at £17.99 a month (or £150 a year). That may be a bit off putting, but they also offer a free section, where you can do a few sign up offers. Do this, and you'll have made yourself up to £56 in profit. That could pay for 3 months of premium membership, in which time you can easily make another £950 by working through the rest of the sign-up offers. I'm serious!
When I started matched betting, I went with a free site, as a paid one didn't seem worth it. I done all the sign up offers this way, without any of the tools which OddsMonkey offer, and probably made about £600. Not bad, but I could have made an extra £400 had I just gone with OddsMonkey initially. (I also would have saved a lot of time…)
In short, I can't recommend these guys or matched betting in general, enough. As a student, an extra £250 per month is huge. It genuinely changed my life, and the travelling I've done over the past few years would not have been possible without it.
Click here to learn more about OddsMonkey and access the free trial!
(Oh, and they also have a 30 day money back guarantee. So you've got nothing to lose!)
Coronavirus Status
Unfortunately, the Coronavirus situation has pretty much put all professional sports on hold. This has really hampered matched betting, and it also means that you can't do basically any of the sports signup offers. (where you'll make that first easy £1000)
However, Casino offers are still going on, and we're actually seeing a lot more promotions than normal right now! Even better, OddsMonkey just launched a whole new casino section of their website! The expected value of doing all the casino sign up offers is actually £580, and there's more to be made daily on the reload offers.
So it's still worth signing up, but just try not to open an account on any website that offers a nice sports sign up offer. You'll normally need to place a bet within a certain time period, and you can't do that right now. Just stick to the casino only websites!
25/05/2020 update**
As we move past the peak of the virus, countries are starting to re-open, and this means that professional sports are coming back! The Bundesliga is already back, and the other big European leagues will be resuming over the next few weeks. 
Specifically, La Liga is set to resume on June 8th. With this and the Bundesliga going, and the Serie A and Premier League coming back soon after, things will return to normal. 
So if I were you, I would sign up to Oddsmonkey sometime before June 8th and get comfortable with how it all works. There's going to be some cracking offers on to celebrate the return of football, and the season needs to be finished quickly, so there will be plenty of games on, all week long.
After a poor few months, this is going to be a fantastic time for matched betting! There will be a lot of money to be made, in both sports and casino! 
You'll be able to make that initial £1000, plus a lot more through all the new reload offers. Hell, I made about £30 in the first weekend of Bundesliga being back alone! 
Online surveys are one of the more basic ways to make money online. There are a thousand different places to do them, but I'll just mention my three favourites here. These three pay decently, are frequent, and actually have quite interesting surveys!
Prolific
Prolific is one of the best paying survey sites. Plus, their surveys are normally really interesting. A lot of universities use them to conduct experiments! Sometimes you'll be paired up with someone else, and have to make decisions, or play games together. It can actually be quite fun!
The only issue with Prolific is that they can be somewhat infrequent. They don't send out alerts, so you need to check the website throughout the day to try and get some.
Viewsbank
Viewsbank also suffer from infrequent surveys, but you should be able to do one every couple of days. I like them because the surveys are always really short, and pay quite well. Normally it's something like a 1 minute survey for 20p. That doesn't seem like much, but it is a rate of £12 an hour. 
Unlike Prolific, Viewsbank will send you out an email when there is a survey available to complete. Still, it's good to check the site once or twice a day just incase. 
How Much It Pays
Surveys in general don't pay amazingly well, but there's always more surveys to do, so they add up over time. In general I earn about £5 – £10 an hour doing surveys.
From Prolific I have earned £258, doing around 220 surveys. Here is what my Prolific dashboard looks like: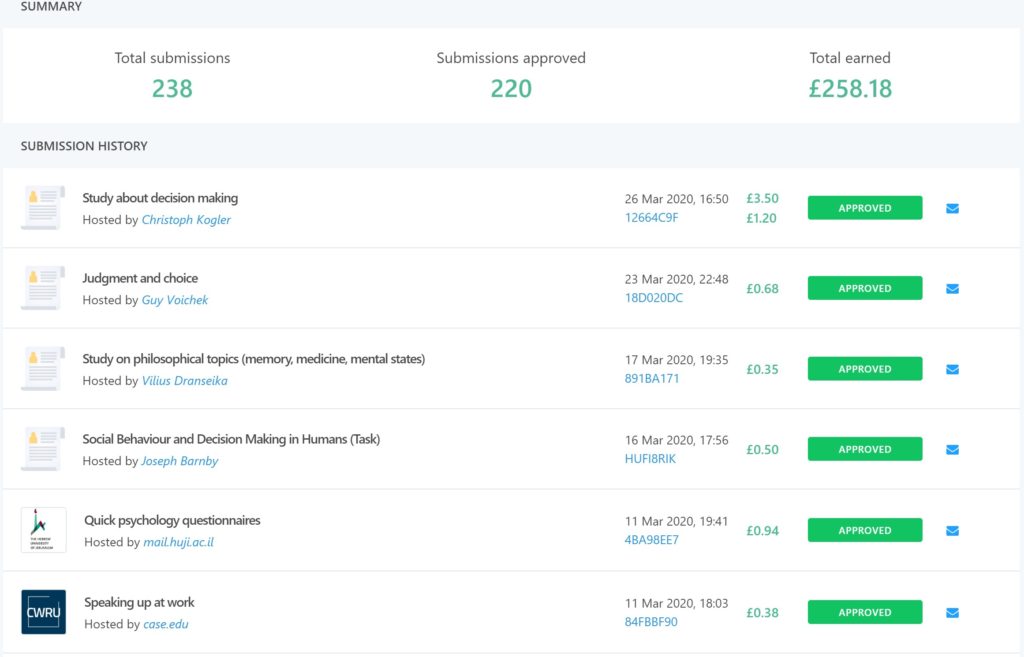 On Viewsbank I have earned £40, doing 53 surveys.
So that is over £300 in total, which isn't bad considering I don't do them very often! You could definitely make £30+ a month just from these three websites, if you put the time in. And you could earn a lot more by using additional websites, if you have the time.
Coronavirus Status
There hasn't been any impact on surveys from the Coronavirus. In fact, they're coming out a bit more frequently. A lot of the surveys are asking people about the Coronavirus, trying to get an idea of how it is affecting peoples lives.
Trading 212 is a platform for investing in stocks. They're trying to get more people to use their service, and one way they're doing that is through a referral scheme.
If you sign up with the link I've posted here, then you'll receive a free share! All you need to do is deposit £1. Once you've done this, you'll get the free share, which can be worth up to £100 (although it'll likely be less).
Once you've got the free share, you just need to wait 30 days, and then you can sell it and withdraw the value of it (plus your initial £1 deposit). It's a super easy way to make some quick money. Probably the easiest to do on this list.
Additionally, after signing up, you'll get your own referral link. You can share this with your friends and family and get another 20 additional free shares! If you get lucky, you could potentially earn £2000! (although £200 is a more realistic target)
I've personally recieved 2 shares so far. One for Ford, and one for HP. These were worth about £5 each, so I've made £10 of profit. If my other 19 referral shares are credited as a similar value, then I'll expect to make an additional £95.
Click here to sign up with Trading 212 and get a free share worth up to £100!
Coronavirus Status
The Coronavirus hasn't affected this offer, but it has really hurt the stock market. This means that the share you get might be worth less than it would have been a month ago, but it also means that there is huge potential for growth. If you get a £10 share today, it could be worth £15 by the time you go to sell it in 30 days!
Cashback websites are as simple as they sound, they just give you cash back for making purchases or doing certain tasks. For example, they might have 3% cashback on all Expedia purchases. So if you make a purchase with £100 on Expedia, after following the link provided on the cashback website, you'll earn £3! 
Once you start doing as much of your spending as possible through the cashback websites, the totals really start to add up. 
Plus, they also have offers on where you can receive free cash for doing certain tasks, like signing up to a website, or starting a free trial (which you can then cancel). 
The two main cashback websites are Quidco and TopCashback. They're both similar, but offers can vary between them, so it's a good idea to sign up on both. 
Quidco
Quidco is my favourite cashback website right now, as I find them to have better rates than TopCashback, and I also find the site a bit easier to use.
They even offer a few tasks which you can earn money from without needing to spend any money yourself! I'll quickly list these here:
So there you have it! Do all those and you'll some easy money! Plus you'll get some free some EuroMillions lines. 🙂 (just make sure to cancel any free trials before you get billed)
Additionally, if you sign up with my link here, you'll get an additional £10. So in total, there is an easy £69.74 to be made!
TopCashback
One cool thing about TopCashback is that they have little competitions a few times a year where you can collect little prizes, and earn some money from it! Normally it is an easy way to earn an extra few pound. 
They also offer a few tasks which you can earn money from without needing to spend money. I'll quickly list these here:
So there you have it! Do all those and you'll make £7.20! Plus you'll get some free snacks. 🙂 (just make sure to cancel any free trials before you get billed)
Additionally, if you sign up with my link here, you'll get an additional £5. So in total, there is an easy £12.20 to be made!

How Much It Pays
Cashback is an ongoing thing, and it really depends on how much money you spend in your day to day life, and how much of that can be done through a cashback website.
Still, if you do all of the offers I mentioned above, then you can earn around £80. Just be aware that the money won't all be credited instantly, it might take a few months for all of it to come through, at which point you can withdraw it to your bank account. 
In total, I have earned £858 through Quidco and TopCashback over the last few years! The majority of that has probably came through booking flights and hotels. 
For example, here is a screenshot of some of the cashback i earned when I was planning a 4 month long trip back in 2018: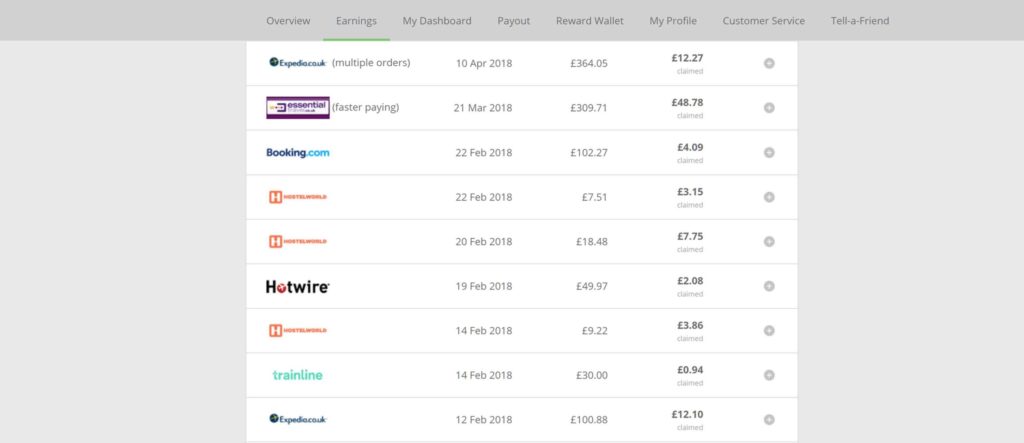 Insane, right! I was getting close to 30% cashback on hostels. Plus £50 back on my insurance policy, and so much more. It really help cut down the trip costs.  
Coronavirus Status
The coronavirus hasn't changed much on the cashback websites. Although, flights and hotels are some of the best things to get cashback on, and obviously we can't do that right now, which is a bummer. Still, I'd expect them to give some very nice rates once things start to return to normal, and they want to draw people in again.
20 Cogs a website which gives you cash rewards for completing different tasks/offers. The tasks pay an average of £10 each, and are mostly just signing up to different websites and starting free trials.
Once you complete 20 tasks (cogs) you can withdraw your rewards! It sucks that you need to wait until you've completed your 20th task to withdraw, but it's worth the wait. The average member makes around £200 in total from the 20 tasks!
What are the tasks like?
I must admit, it has been a while since I used 20 Cogs. But looking back on my tasks, they varied quite a lot. Here are a few of them:
Start a free Amazon Prime trial (£10 reward)
Start a Which? trial for £1 (£12.50 reward)
Start a 2 month trial with Readly for £2 (£7.50 reward)
Start a free trial with Graze (£3 reward)
Deposit and spend £10 on Virgin Games (£15 reward)
You'll notice that in some of the offers you need to spend money. Normally it's only a pound or two, but on the casino offers it can be £10 or £20. (for the casino ones, you can normally just wager the deposit once and withdraw most of your money again)
Working through the tasks
To withdraw, you need to complete all 20 cogs, by doing a task on each one. Each cog will have 3 – 4 tasks on it, so you'll have a choice of what to do.
You can do multiple tasks per cog and earn extra money, but I suggest just doing 1 per cog and finishing all 20 Cogs before going back and doing this.
You can't do a task if you already have an account with them. E.g, if you have a Which? account already, you can't sign up again. For this reason, I strongly suggest doing 20 Cogs before starting the Cashback website offers, as there is a lot of overlap.
If you can't do any of the offers on a cog, then you can't progress. This means you're stuck and can't withdraw your money, which could potentially leave you with a small  loss. If this happens, don't worry! The offers are updated regularly. Check back in a week or two and see if there are any new ones which you can do to progress. 
How Much It Pays
The average member supposedly earns about £200. Personally, I earned £193.5 doing the initial 20 cogs (I done multiple tasks on a few of the cogs). I also referred a few of my friends which earned me an additional £11.63.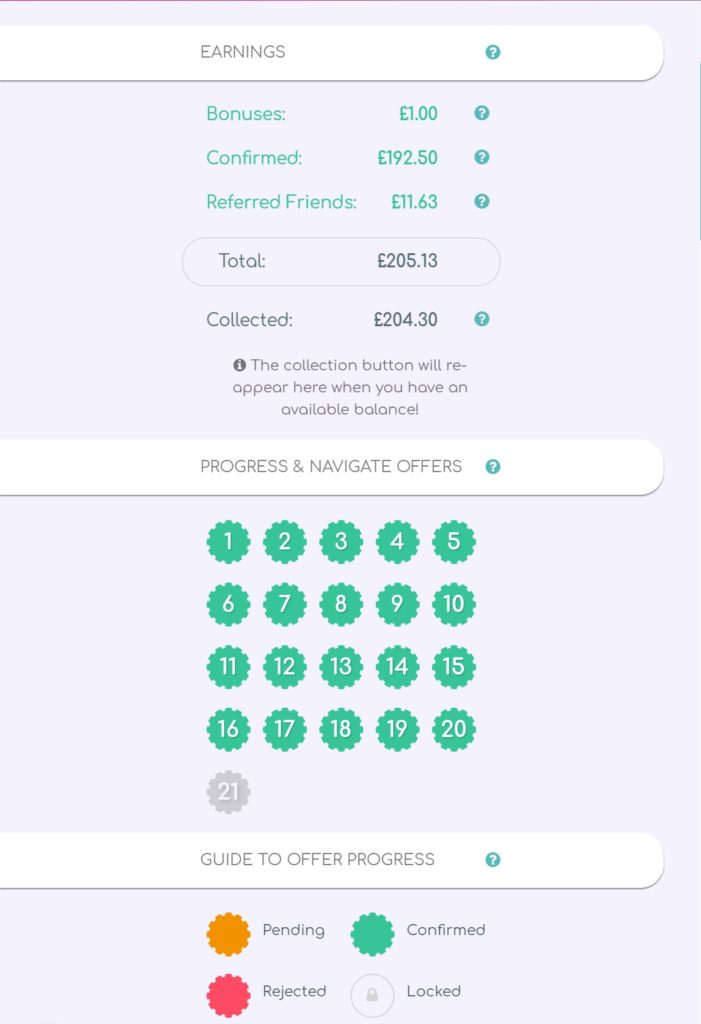 So in total, I've made £205 from 20 Cogs. You should expect to make about the same! Plus afterwards, you can refer some friends/family and make even more. 🙂
Coronavirus Status
The coronavirus hasn't had any impact on 20 Cogs!
6. Switching Bank Accounts
If I told you that I had 11 bank accounts, you'd probably think I was rich! Sadly I am not.. but I do like to get the most from my money. That's why I'm always looking for banks who offer sign up bonuses, or who offer the best interest rates for my savings. 
I could speak forever about maximising your savings rates, but that's not really what this post is about. (although if you're earning under 1%, you're doing it wrong!)
Instead, I'm just going to mention a couple of the best sign up bonuses. This is when a bank gives you cash for simply opening account with them, ranging from £50 to £175! Sadly there only seems to be one offer ongoing right now.
TSB
Now TSB aren't giving out cash just for signing up with them, they're giving out cash for signing up with them via a cashback website called Quidco. I mentioned it earlier in this post. If you create a TSB account through Quidco, they will give you £50!
Click here to sign up to Quidco, and then search for 'TSB' in the sites search bar. 🙂
How Much It Pays
By doing the above offer, you will earn £50. These offers come and go every few months, so you should be able to make a fairly consistent £100 – £150 a year.
Also make good use of saving rates and you could earn as much as 3% interest on all of your money. If you've got £10,000 in savings, then that is £300 a year!
Coronavirus Status
The coronavirus has really hurt the economy, and slashed interest rates. As a result, the savings rates being provided by banks have gone down quite substantially.
As far as the sign up offers go, most banks have pulled their offers. The only offer I can  find if the above mentioned TSB one, which is a shame. Normally there will be 4 or 5 going on at once, where you can earn over £100 easy!
Definitely keep an eye out for switching bonuses in the future. It might take a couple of years, but I'm sure they will come back. First Direct normally have a nice one, although they seem to have stopped accepting new applicants for current accounts right now.
By doing these 7 methods, you should be able to make some easy money for yourself and begin topping up your travel fund for when this all blows over! 
Matched betting is by far the most profitable! The sign up sports offers have a value of £1000, and the sign up casino offers have an expected value of £580. After this, you could earn £250+ a month by doing the reload offers! To get started, sign up with OddsMonkey and learn more about how it all works!
Surveys are the traditional way of making money online, where you can share your thoughts on a wide range of topics. My favourites are Prolific, and Viewsbank. Earning £30+ a month is a realistic target with minimal time put in!
Trading 212 is a great way to earn a free share worth up to £100, and by sharing your referral link with some friends, you could earn 20 additional shares, which could potentially turn into an additional £2000 for you!
20 Cogs is an easy way to earn £200 just by signing up to free trials and different websites. Similarly, Cashback websites such as Quidco and TopCashback can earn you an easy £75 for doing the same thing, and then lots more in the future!
And finally, by switching your bank account to TSB or another bank (once the offers come back), you could earn £50 – £150. And by ensuring that you're getting good interest rates, you could be growing your money by up to 3% every year!
My 2019 Earnings
The chart below shows all my monthly earnings in 2019 from making money online. It's split into Matched Betting Sports, Matched Betting Casino, and Surveys & Others. 

As you can see, matched betting brings by far my most income. So yet again I will highly recommend that you sign up with OddsMonkey and get yourself started!
But the chart also shows that making money online is not a scam or a pipe dream. It is genuine, and it is worthwhile. The money is there, if you want it. I averaged £400 a month last year, which works out to be about £13 an hour. 
So.. what are you waiting for? Go get started!! And let me know how you get on. 🙂
Feel free to leave a comment or contact me by email if you need advice or help on anything I've mentioned, and I will be happy to assist! And if you have any other suggestions for the list, leave a comment below so that others can also benefit!
Disclaimer
All the information here is up to date as of 16/08/2020. I'll try to keep it up to date in the future, but be sure to check the terms of each offer to make sure it is still correct. If something is out of date, please let me know! 
Matched betting is not gambling, but it does involve taking part in sports betting and playing online slots. If you have previously suffered from any gambling related problems or addictions, then please do not start matched betting. 
25/05/2020 Update
Hi guys! Just a little update on this post. The survey website 'Pollpass' is sadly closing down, so I've removed that. I've also amended the bank switch and cashback sections to remove offers who are no longer available. 
I added a little update to the matched betting section too. Essentially, professional football is starting up again, so matched betting is viable again. It's actually better than ever with the cramped schedule and all the celebratory 'return of football' offers going on! It's a great time to start, so you should sign up to OddsMonkey if you haven't yet!
16/08/2020 Update
Another quick update, just checking that everything is still up to date and working. I've removed some of the outdated cashback offers, but everything else is still good!
Football is well and truly back now, with the 19/20 season having just finished and the 20/21 season just starting up. There's normally lots of great matched betting offers on for the season start to make some easy money.
Plus, if you're reading this before the 23rd of August, then there's still to sign up to Oddsmonkey and get in on the champions league final! It's the biggest game of the year, and making £50 – 100 on it is pretty easy!